Dietary herbal supplements
Rather than isolating or synthesising the active ingredient, Maharishi Ayurveda utilises the synergistic cooperation of substances as they co-exist in their natural sources – either single herbs, or more often, mixtures of herbs whose effects are complementary.
Herbs are considered concentrated repositories of nature's intelligence, which can enhance the
expression of that intelligence in the body. By combining the herbs and processing them according to time tested traditional methods, the therapeutic effect is enhanced and any unwanted effect is mitigated. In this way the Maharishi Ayurveda herbal compounds have both a specific therapeutic effect and a holistic effect.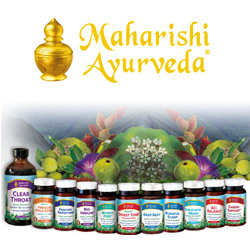 A special category of herbal supplements known as rasayanasare designed primarily for a holistic effect. Rasayanas do this by promoting the production of Ojas in the body. Ojas is the link between physiology and consciousness, the link between body and its inner intelligence. It is responsible for strong immunity. and resistance to disease. One of the most well known and widely researched of these rasayanas is Amrit Kalash (Amrit Ambrosia and Amrit Nectrar).
The Maharishi Ayurveda manufacturing facility in India that produces these compounds has earned international recognition for its high level of quality control. Every batch of finished product undergoes stringent testing for overall purity including heavy metals, pesticides and biological contamination. In this way each product is ensured to be safe, effective and reliable. The effectiveness of several of these preparations has been verified by published research.