The Doshas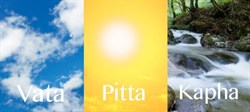 Your body's inner intelligence expresses itself in three modes known as Vata, Pitta and Kapha. These are the doshas – the governing principles of your body and mind. When the doshas are in balance they allow the body's inner intelligence to fully express itself and thereby maintain order in body and mind. When out of balance they disturb the expression of the body's inner intelligence and lead to disease.
Vata is characterised by movement and change Pitta by heat and intensity Kapha by cohesion and stability.
Vata is responsible for motivation and movement – be it the circulation of blood, respiration or transmission of nerve impulses; Pitta is responsible for digestion and metabolism, Kapha for the structure of cells and organs, fluid balance and immunity.
Take the dosha quiz to determine if your doshas are out of balance at the moment. On completion of the quiz you will be given some simple and effective strategies to balancing your body and mind, thereby preventing health problems developing in the future.